Kramer Insider: Get Tokens WITHOUT Spending?
Are you just a few more tokens away from redeeming a reward?  Read these Kramer Insider tips to inch your way closer to that coveted prize. And the best part is... you can earn those extra tokens WITHOUT spending a single cent!
Ever wonder how that friend of yours keeps on redeeming free Pops much faster than you?  Fellow collectors playfully call him "Mr. Big Time." To your mind, he redeems faster simply because he racks up tokens from purchase after multiple purchases.  In most cases, that is true.  In fact, with Kramer Tokens you only need to buy 5-6 Pops, in order to get a Free Pop!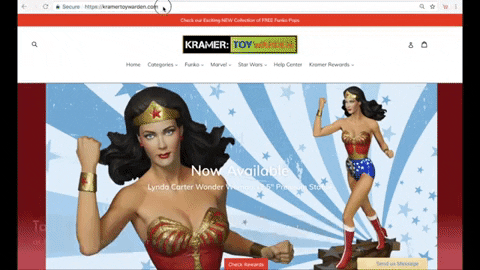 But then, there's also this little open secret that might have escaped you: You can actually earn bonus tokens without buying anything?  Read along. Because in this blog, we'll talk about insider tips on how you can redeem rewards faster using bonus tokens. Note: To access these bonus features, make sure to login to your Kramer online account first, then press "Check Rewards" at the bottom  of your screen.
Now, on to the tips:
After tapping on "Check Rewards" and going to the "Earn More Tokens" tab, you can actually view all the possible ways you can earn tokens.
Let's start with the easiest part.
Bonus #1  Complete Your Profile - Earn 50 Tokens   
Tell us 3 short details about yourself - your birthday, gender and mobile #.  Aside allowing us to communicate with you easily, these details will also automatically reward you with the next bonus in this list. 

Bonus #2  On your Birthday! - 1,000 Tokens
Get this extra special treat on top of the 15% discount you will also enjoy on your very special day.  Yes, that's 2 privileges wrapped in one package just by being a member.
Bonus #3  Like or Share Us on Facebook - 100 Tokens
Just Like our page or Share our posts on facebook! That's a total of 200 Kramer Tokens to inch your way faster to a reward redemption.
Bonus #4 
 Follow Us

 on Instagram - 100 Tokens

IG is where we'll most likely be more active in the coming months. So be sure to follow us, to get updates on the latest offers and exclusive product releases!  
Bonus #5 
 Refer a Friend

 

- 300 Tokens each

Loving Kramer Tokens?  Share the love and earn bonus tokens every time you successfully refer someone.   We've recently increased the bonus from 100 to 300 tokens, to make redemptions faster.  Your referral will also get a 10% discount on their first purchase
Bonus #6
 Make a Product Review

 

- 100 Tokens each

Get Free tokens for reviewing our products every month!  Tell everyone about your orders and help them a made a more guided decision. 

That's it, Insiders!  Now, you can take full advantage of your Kramer membership. Have fun shopping in our site and stores.  Trust that we'll continue to find and launch new ways to make your experience more fun.
---